Shopping Cart
Your Cart is Empty
There was an error with PayPal
Click here to try again
Thank you for your business!
You should be receiving an order confirmation from Paypal shortly.
Exit Shopping Cart
Where We Tell the Stories behind the History
| | |
| --- | --- |
| Posted on June 1, 2014 at 4:47 PM | |
I've just finished posting a board on Pinterest to provide materials for any book club that wants to read "Damned Yankee" as their monthly selection. You can find it on
my Pinterest site
,
right next to the board for the book itself,  which offers maps and photos of the setting. Here are some of the items available to make your meeting a success: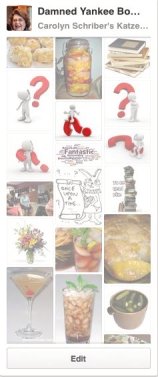 To start, there's an author biography in which I discuss my own tendency to change professions every few years. It seemed an appropriate topic for a book about another teacher who had to find a new career.
Next comes a link to an article in which I discuss the origins of this particular story.
Several sections of questions cover discussion suggestions centered on the plot, setting, characters, and theme of the book.
You'll find a few quotes from reviewers, which are, of course, open for discussion amongst the readers. Feel free to disagree.
There's a reading list of other novels that are similar to this one, and . . .
A listing of the other four books in my series, "The Civil War in South Carolina's Low Country."
And now for the good stuff: a group of recipes based on the book -- all of which would make a lovely spread to offer to a Book Club hungry for lunch as well as ideas.
Start with a crunchy chicken salad -- one that uses a relatively small amount of left-over chicken and expands it by adding Georgia sweet onions and celery straight out of Susan's kitchen garden, apples and walnuts from Jonathan's orchard, and some muscadines from the farm's grapevines.
Add some tang by offering a dish of 14-day pickles--the ones the Grenville daughters learned to make in the farm's kitchen.
Balance both with a small drop biscuit featuring cheese shreds from one of Eddie's dairy experiments.
Offer both non-alcoholic and adult drinks. For those who abstain, Susan has a recipe for making Charleston's own sweet tea.
For those who prefer something stronger, use Jonathan's homemade brandy to flavor a couple of peach-themed drinks -- a Georgia mint julip or a peach cocktail. (Note: I really don't recommend following Jonathan's recipe for homemade brandy, but if you do, be sure to let it age for the full six months.  Then you can be sure that the cyanide from the peach pits has had time to be neutralized by the fermentation process.

And top off the meal with -- what else! -- a peach cobbler fresh from that Aiken peach orchard.

HAVE A WONDERFUL AFTERNOON!
Categories: None
/