Shopping Cart
Your Cart is Empty
There was an error with PayPal
Click here to try again
Thank you for your business!
You should be receiving an order confirmation from Paypal shortly.
Exit Shopping Cart
Where We Tell the Stories behind the History
| | |
| --- | --- |
| Posted on May 17, 2014 at 8:54 AM | |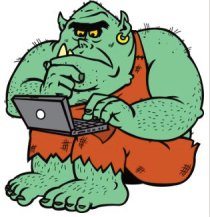 I didn't use to believe in trolls who live under bridges, but I do now, because I've met one.  And what they say is true.  He's ugly!
Perhaps it would be more correct to say that there's a troll living under my blog!  For weeks now, I have been getting odd comments on old blog posts. They are usually vague remarks with little or no connection to the topic of the blog to which they are attached. 
Their e-mail addresses are also suspicious. The writer seldom uses a recognizable e-mail server like yahoo.com or gmail. I haven't clicked on those addresses because I had nothing to say in response to the vague comments. And I suspect that was a good thing.  No telling where those links would have taken me.
In the last few days, however, my little troll has been getting more annoying.  He used to try to sell me fake watches on my old blog posts -- not just one a day, but 10 or 12 of them.  Now he wants to offer me canned articles so that I don't have to write my own stuff. Short of blowing him up, I would really like to get rid of him.
So, for the foreseeable future, I have disallowed all comments on my blog. If I get any more comments I will automatically know that they come from a TROLL and I can throw the notification into my spam filter.
I will also be going back through all my old blog posts and deleting all comments, even the nice ones, just in case.
For my faithful followers, I'm sorry.  I'll miss you. If you want to leave me a message, please use my regular e-mail address. You can reach me any time at
[email protected]
Trolls, however, are NOT welcome to invade my e-mail account.  If you send me something stupid or spammy, you can expect to be blocked. 
BE GONE!
Categories: None
/