Shopping Cart
Your Cart is Empty
There was an error with PayPal
Click here to try again
Thank you for your business!
You should be receiving an order confirmation from Paypal shortly.
Exit Shopping Cart
Where We Tell the Stories behind the History
| | |
| --- | --- |
| Posted on May 6, 2014 at 10:48 AM | |
This is National Nurses' Week, and the historian in me needs to mention that it was during the Civil War that American women first tried their hand at nursing as a career. Of course women had always done the nursing in their own families, but it was not until the mid-19th century that they ventured beyond the home to work with patients who were not intimate family members.
Florence Nightingale is given credit for originating the idea that women could be useful adjuncts to an army in time of war. It was in Britain during the Crimean War (1854) that the precedents were set. But in America, there remained a moral prohibition against a woman viewing the body of a man who was not her husband or her son.  It took the Civil War to convince doctors and other male medical workers that Women had a place in battlefield hospitals.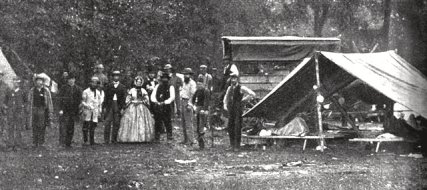 This picture shows the primitive conditions of medical care at Gettysburg.  And note that in the medical staff assembled to care for the wounded men in the tent, there is only one woman.
  The first nurses had no medical training, and they were often expected to do little more than hold a suffering hand or write a letter for a soldier who could not do so for himself, as this picture shows.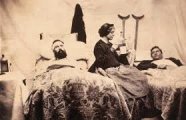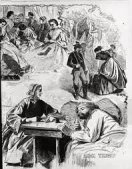 But as the war dragged on, the services of the women who took up nursing duties for the army became more and more important. A sketch artist for the Harper's Weekly published this montage of women going about their varied duties among the wounded soldiers. They appear in the simple role of housewives mending socks -- as comfort-givers, and as brave women venturing onto the battlefield to perform simple triage among the wounded and dying.

Please make an effort to thank a nurse this week, in recognition for all they do. But if you're interested in history, you might enjoy reading one of the many books written about Civil War nurses. You might even try
Beyond All Price
, the story of Nellie Chase, who began as an inexperienced regimental nurse for a Pennsylvania unit and finished her career running a 600-bed military hospital in Nashville at the end of the war.
Categories: None
/