Shopping Cart
Your Cart is Empty
There was an error with PayPal
Click here to try again
Thank you for your business!
You should be receiving an order confirmation from Paypal shortly.
Exit Shopping Cart
Where We Tell the Stories behind the History
| | |
| --- | --- |
| Posted on April 27, 2014 at 2:23 PM | |
It's 1:00 PM on a very rainy Sunday, and we just returned home from hosting the 2014 Tennessee Lions State Convention.  Despite a number of annoying glitches that were beyond our control, everything went well, and everyone except for a couple of perennial grinches seemed to enjoy their weekend. As for Floyd and me . . .  we are footsore and weary, but relieved to have finally put the whole thing behind us.  Our car on the way home was so overloaded with signage, left-over canned drinks, luggage, and other paraphernalia hat we kept expecting to be pulled over on the interstate as tail-dragging drug-transporters. 
But now, for a few days we can relax  --  or maybe not! First of all, we returned to dire warnings about massive tornado outbreaks headed our way and flood warnings from the expected 5 inches of rain.  I'm dying for a nap, but the thunder outside says "NO!"
Beyond that, a glance at the calendar tells me there is no time for being lazy! In the next four days, I need to give Damned Yankee that final once-over check, format the manuscript for Kindle,  and then punch the button that says PRINT IT.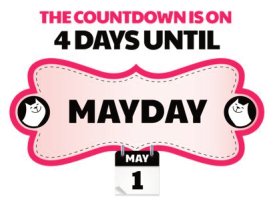 Once again Glogirly and Katzenhaus are on the same count-down.  I still don't know what she has in store for you all, but I'll be launching the fifth book in my series on the Civil War in South Carolina's Low Country. Stay tuned.  A book trailer may appear in the next couple of days.
Categories: None
/